_The transatlantic telephone call is clear and crisp, the usual static and delay conspicuous by its welcome absence. At the other end of a London telephone (DiS sits on the fourth floor of the EMI building in Hammersmith, the setting sun painting washes of pink and orange across a sky that'll too soon shift from Technicolor to slate grey), in Vancouver, Canada, sits Jónsi Birgisson, vocalist and guitarist with the super-unit-shifting Sigur Rós, Iceland's most angelic of musical exports.
The band's latest album, Takk..., has gatecrashed the UK top twenty, shifting many a copy onto coffee tables and iPods alike. That's the secret of the band's success: instant crossover appeal helped by endorsements from the likes of Thom Yorke and, more recently, Chris Martin (note: both are EMI labelmates). It's put them where they are, on just one leg of a multi-continental promotional cruise that returns to Britain in November. It's still morning in Vancouver, and Birgisson yawns openly, the clarity tricking the senses into twisting the body sideways, as if the man is here, in person.
He's not, obviously: tonight's show is looming, though, and there are many tasks to attend to for both band - Georg Hólm, Kjartan Sveinsson and Orri Páll Dyrason complete the core quartet - and road crew. It's sold out, as is much of the band's month-long American tour. The pressure is on, however relaxed the vocalist may sound._
This seems like a fairly massive tour for you - you must be away for over two months? Is this something you're used to yet?
Oh yes. I am kind of feeling homesick though. We've already been around Europe and Japan and Australia before this, for one month, before this tour.
So when did you last get home to Iceland?
We actually went home between these tours. That was about three weeks ago. We'll be back there again in just one week.
_Takk... (Icelandic for 'thanks'), while not rich in the unexpected, is nevertheless a fine record, a grand record that'll frequent many an end-of-year best-of list in a favourable position. It doesn't shift the trademark template previously established by third album ( ) and its predecessor Ágætis Byrjun in the way that the stopgap EP Ba Ba Ti Ki Di Do did so magnificently; rather, it builds upon existing foundations, the band crafting ever-growing towers of melancholy melody and pulse-stopping, sky-scraping guitarscapes. Truth be told: established aficionados will discover both immediate gratification and _a degree of longevity that some may have feared absent after so much pre-release hyperbole. Sigur Rós have no need to reinvent the wheel when the ones they rode in on still sound as breathtakingly beautiful as they did in 1999.
Did the writing and recording of Takk... differ at all from previous albums, bearing in mind that you're now in a wholly different situation? Whereas before you were progressing through a stage where success was no certainty, this time around the expectation has almost outweighed the subsequent critical acclaim...
No, we didn't feel under any kind of pressure. It was nice to record this album, as we'd only written two songs before we went into the studio. When we did the last album, the brackets album, we had, like, everything written before we went in the studio. We'd written it all on tour, as we'd been on tour for a long time.
And you were playing some of the new songs live - the two, at least - before you took them to the studio?
Yes, two songs or something.
And did you write songs in the studio that didn't make it onto the album?
Yeah... yeah. We actually have a few other ideas that we'll explore once we stop touring. We're going to go back to the studio to play around, and to experiment.
Is that something you're keen to do, to push the boundaries of what Sigur Rós is known for, and as? You released the Ba Ba Ti Ki Di Do EP between albums - is this something you'd like to do again, release an EP of material that's not wholly in keeping with your more popular releases?
Yeah, I think that would be really fun. Sometimes things just come from experimenting. I think it is really healthy to do side projects like [Ba Ba Ti Ki Di Do] that are a little bit outside the frame of Sigur Rós, and I think it's healthy to experiment more a little bit. For Ba Ba Ti Ki Di Do my father made a really nice instrument - a frame with ballet shoes and contact microphones in them. It was an instrument made of ballet shoes that you could stroke and hit. We recorded dancers dancing and made beats out of that.
Sigur Rós' November European tour will see them play only four shows in Britain - London, Edinburgh, Liverpool and Birmingham. The schedule is punishing: Germany to England to France and then Italy via Portugal and Spain, and that's not including the shows in Scandinavia. The band's US tour is, of course, of great significance too, and the band and crew are currently developing the stage show - the projections and lighting - as they progress from city to city.
So how is the tour over there going?
Really well, actually. On tour, now, we are working on a light show, behind us, so we are still working on details as we go on the tour. It's all developing.
So when you reach Britain again, is there a good chance that we'll be seeing visuals that the Canadians won't have seen?
Yeah, I think so. We're also rehearsing the songs from Takk... a lot, because we have not played them much in concert. We are kind of mixing it all together now [set wise], but I think we are going to play all the songs from Takk....
Takk... is the band's first album to be sung in straight Icelandic, Birgsson departing from his 'conventional' Hopelandish, a language largely of his own creation.
Takk... is the first album that you've sung on in your native tongue - why choose this record to do such a thing?
I think we just wanted to... well, it was a challenge for us to write the lyrics, because words are so hard for us, while music is really easy and very natural. Words are _so _hard - they are so bare and naked. Somehow we had to communicate, and this was a good challenge. And actually I think my voice is interesting when it has words in it, y'know.
So now that you're singing in a recognised language, do you have audiences singing the words back at you?
No! I haven't experienced that yet! But I think it's so nice when people show energy, and when they're in really good spirits and are enjoying it. We just played a really good show in Toronto...
And even at the bigger shows, do you feed off the energy from the crowd?
Yes, definitely. It's _so_ important for us to hear the crowd and to feel the energy in a room. It makes us really excited and we appreciate it. On this tour we've been playing really nice venues, like opera houses and fancy venues, but while it's nice to play in these places, it can be hard... sometimes people are, how do you say...? Shy?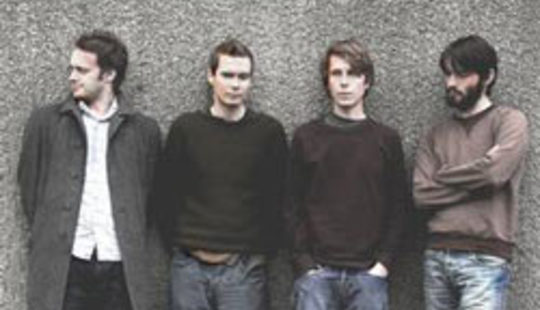 Reserved? Like they've got their hands in their pockets throughout a song?
Yes. We like it better when people are honest and are really going for it.
And you're playing with your string quartet (and multi-instrumentalists) Amina on this tour?
Yes. We've been playing with them for six years. I think people are sometimes surprised by them, but others expect it because we have been touring with them for so long. I think it definitely adds something - we are just four guys and four girls, but we never fight. We get along so well. We have a good communication - they play with no notes in front of them, and there's improvisation...
So do you improvise often, even at big shows?
Maybe not crazily, but it's often different (from show to show).
And what's after this tour? Do you have a break?
Yeah, we have December and January off, totally off. We're going to relax and enjoy Christmas, and see friends and family and stuff. Home is really important. I miss my boyfriend. He was on the first tour, helping with T-shirts and stuff. Maybe he will come with us when we get back to Europe, but he is at art school.
Speaking of art, your records are always as satisfying aesthetically as they are musically. Is artwork of particular importance to you?
Yes, I think every detail is important, not just the music. I think, actually, that we don't think like musicians.
Takk...'s artwork is wonderful - it's like a brand-new hardback book, ready for visual investigation and its insides for cultural digestion. But the music holds its own against the artistic impact: while the aforementioned wheel analogy is accurate - Sigur Rós' traditional sound is absolutely evident - it is adorable from shimmering start to cinematic climax. Only one question really remains, for this conversation anyway.
Back at the turn of the Millennium, could you ever have foreseen this level of success? Ágætis Byrjun was the kind of all-conquering album that most bands achieve only once in their career; to follow it up with ever more impressive releases is, well, unusual.
No, probably not. It's been crazy. It's so selfish, though, to be in a band and just do it for yourself. It makes us happy and nourishes our souls, and that other people like it is a bonus, so that's really nice. We never really think about things like that - things just happen as they happen. Sometimes it feels like it's surreal and too crazy; sometimes you just want to have more time to yourself.
Takk… is out now on EMI