Hello there. You know Truck Festival, right? Held on a little farm in Steventon, Oxfordshire, Truck has been growing in reputation thanks to its cheapness, its great line-ups, and great vibe. As this mammoth review is mammoth enough as it is, let's get stuck in…
Writers:-
Thomas Blatchford (TB)
John Brainlove (JB)
Andrew Farley (AF)
Kate Price (KP)
Raziq Rauf (RR)
Colin Weston (CW)
Saturday
Get Cape, Wear Cape, Fly!
*(RR) *This mega-voiced youngster from Essex belted out a raw bunch of laptop and trombone assisted tunes worthy of even greater stages than this. Opening a festival ain't easy and this is definitely one to watch in the future.
*(CW) *The one man electo-acoustic genius has a bit of a moment when he realises he is without his headphones but after that is all plain sailing. Pulling a set out of his full debut EP he wins over the crowd with his brand of 'appcoustica' (Apple Mac acoustic) while winning hearts throughout the field by slagging the BNP good and proper. A short 30 minute set but the ideal way to start the festival.
Mystery Jets
*(RR) *I've only heard about the barmy nature of these Londonshire crazies but was yet to see it for myself. They did not disappoint in the loony stakes but sadly did in the coherence or quality stakes. Especially the goon with the saucepans…
Engerica
*(CW) *They are running VERY early so the Barn is almost empty but that doesn't stop the Essex boys, as they are currently on a roll. New single on a major label out in a few days time and a string of supports with Sum 41 to back them up, the band are here to convert the uninitiated and boy do they do it! Gone are tracks such as 'Trick or Treat' but replacements such as 'Arsehole' is more than enough. Dave struts the stage like the rock star he is and their intensity comes across on a willing crowd. Top bombing from the boys from Southend.
Zea
*(TB) *Can't claim to have been to all of them myself, but I wouldn't be surprised if Truckfest was the greatest festival, in the world, ever. One thing that lead me to this conclusion is when, with banana smoothie in one hand, liquorice bought from the local church in the other and a pasta salad tucked under the arm, I hear from the Trailer Park Tent the pulsating techno-pop-rock insanity of Zea. One guy stands playing his guitar like he's trying to saw it in half with his bare hands, the other bashes at the vocoding keyboard devices like he wants them to explode, and they end up making one almighty racket that could be called 'dance' music. If you happen to dance like a malfunctioning washing machine, that is. Ace.
*(AF) *Indie-techno duos from Amsterdam shouldn't work, by rights, but after queuing for what seemed like an age and missing a few bands as a result (thanks everyone for arriving at the same time), Zea opened Truck for me and proved my theory wrong. One guy sings indie-pop songs while playing electric guitar and the other dances like a crazed madman behind his laptop/synths that emanate loud techno beats and whilst being slightly messy, is beautifully crafted and well thought out. Compelling.
*Pedro *
*(TB) *Apparently every laptop messiah you've salivated over the past few years has got their best ideas from Pedro, and you can't really blame them. Even though he isn't the most vibrant of showmen, even for a bloke stood in front of his computer, the music more than makes up for it. But folktronica? Folktronica my arse. This is lowdown glitchiness that works as music for the head but is more useful as beats for yer feet. Shame everyone's sat down, then. Haven't you had a drink yet?
Chris McMath
*(KP) *They claimed to have got the band together and written the songs only a week ago. I find that very hard to believe – I can't imagine writing such songs in five years, let along 5 days. There must be something in the Oxford water.
*(TB) *Strange that, in my first foray to the Acoustic Tent, there should be an almightily marvellous din coming from Chris McMath and his amped-up side project Patrick Moore's Glass Eye. Imagine that Futureheads have been smashed to pieces with an electric mandolin and crudely stuck together again with the spittle from inside a kazoo, but imagine it's good. "Here's our ten-minute retro piece", he says, and with that the anti-psychedelic twists and turns are unleashed. Coo.
Battle
*(AF) *Fresh from signing their major label deal with Warners, Battle pull the large crowd to the Barn. Singer Jason Bavanandan is endearingly humble and seems genuinely overwhelmed at the numbers standing in front of him. The clarity and energy of recent single 'Isabelle' is a bit lost but as the set moves on the band find their feet (as does the sound engineer) and their sleek shoe-gazing influenced sound flourishes.
*(CW) *Opening with 'Tendency' was a hell of a good call and has the crowd eating out of their hand. It is not hard to see why they are lauded by the assorted musical press. A good solid set or at least the first half was because after that I head out to see what else lies in store.
(RR) The latest band to fit into the mould of young, British, sounds a bit like Cure/Joy Division but are more likely to be labelled as the next Coldplay. They will go far with these songs. That is for sure. Hats will be bet on it.
*Sexy Breakfast *
*(CW) *I couldn't help but feel I was watching a Beastie Boys tribute band but without the intrigue. They were not awful, just not very interesting. I flit off again to get some water before the girls of matching suits hit the main stage.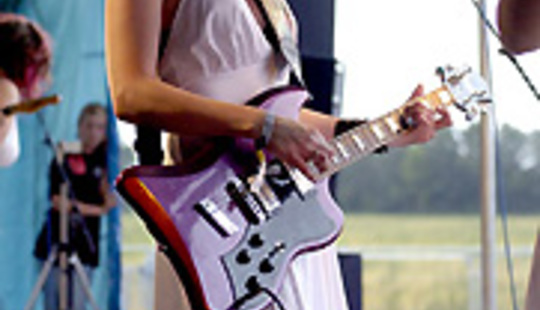 The Schla La Las
*(CW) *Dead centre and at the front in my piss poor DIY shirt, perfect for the seeing the Schla La Las. I am poised, ready for the fun that I know the ladies will spread in just a few moments time. It is however then that band drummer Delia sees my shirt and points and laughs. I feel VERY silly. It passes quickly though as the sassy (and quite frankly blasted) Schlas take to the stage in their matching white dresses. As ever they are all onstage banter including subjects such as veggie burgers and shirts guaranteed to get you laid. Add to that their throwaway care free attitude playing the songs they love and it is yet another winner for Truck 05.
*(AF) *After one song I realise that I could be watching somebody else, so I trek to the Barn.
A Silent Film
*(AF) *I didn't catch all of Silent Film, but their mightily impressive sound can only be described as 'big'. The Barn was filled with keyboard led anthems-in-waiting and the vocals soared and genuinely impressed. Nice.
*Motormark *
*(CW) *They are dressed all in black and hit the crowd with their 2-piece electro rock and are as good as ever. 'Eat Drink Sleep Think' is as vicious as it could be and closing out with 'My Sharona' was inspirational. They may head back to Scotland a little worse for wear (and believe me, Marco was!) but not without some much deserved new fans.
Stuffy/The Fuses
*(AF) *Singing drummer Stuffy and his Fuses provide me which much entertainment; fizzed-up guitar pop and inbetween song banter all aid to pull me in to their world. At the end of the set, Stuffy attempts to do a competition and asks a ridiculously impossible lyric question to a baffled audience. I didn't write down what it was, but Stuffy quickly realised his mistake and gave an album to the first person to put their hand up.
*(TB) *Stuffy and The Fuses are also mostly Chris T-T's 'rock' band, or if you'd rather Chris T-T's 'rock' band are mostly also Stuffy and the Fuses. But do they sound the same? Do they heck. It's good to know that, in a weekend with its fair share of guitar bands with distinct genres (stand up emo, post-rock, hardcore…) that there's at least one band that do the jittery start-stop-pop business with heavy-fisted drumming and "ooooh" harmonies and still manage to rock out. Their bark seems worse than their bite, but luckily the bark sounds great.
(RR) Grabbing a marquee of people with Fugazi-esque riffs and an utterly compelling frontman, an all-bouncing, all-crooning drummer greets me. His t-shirt says "Stuffy". It's a terrible name for a band and will be the reason why not.
*The Edible 5ft Smiths *
*(KP) *Twee but not sickly. Usually this sort of thing makes me want to become a goth but I really quite enjoyed them. I think I might be turning into a hippy.
Malmo* Radical Cheerleaders *
*(CW) *Are they what they say they are? Well, two parts of it; they are Swedish and are cheerleaders. Not really radicals, just feminists who cheer about hairy pussies. Amusing in a cringe worthy way but the number of people here thinking something slightly more raunchy were on offer leave disappointed.
Patrick Wolf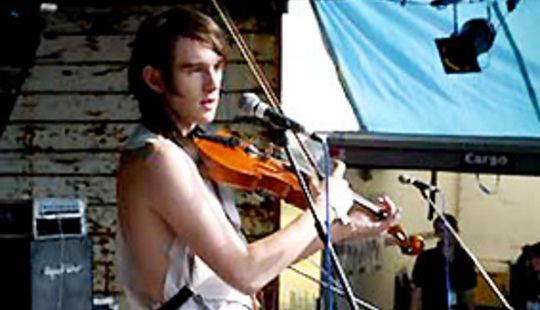 *(AF) *A genuinely interesting and different performer, Patrick's set reflects the understated beauty of his latest 'Wind In The Wires' LP. 'The Libertine' sounds as amazing as ever, even if the sound gets carried away from the main Truck stage when standing further back than a few meters.
*(KP) *I arrived unconvinced, I left with a tear in my eye and an addition to the hypothetical 'fuck list'.
*The Tenderfoot *
*(CW) *Loveable boys from Brighton. Nice soothing acoustic songs of life and love are just what I need at this moment and they supply in plenty while making a very sound case for why bowls should be for the people, not just the aged. Keep fighting the cause lads!
The Young Knives
(AF) Amazing live. Three less than fashionable cheeky chaps, two of them are brothers and one of them is called The House Of Lords. Still reading? Do. They're arty disjointed guitar pop could do wonders for society if it'd only give them a chance – the door opened by The Futureheads may work wonders for them.
*(KP) *The difference between a show where these three are having fun and one where they can't really be bothered is absurd. This weekend their choppy, angular songs were backed by quirky personalities, snappy enthusiasm and a dance that would put Ricky Gervais to shame. Definitely worth seeing again.
Dive Dive
*(AF) *Acoustic, this really shouldn't work. And to start with you think it's not going to. Seeing the four of them sitting down and not dancing around the stage frenetically is odd in itself, and singer Jamie struggles to get to grips with the acoustic guitar, breaking a string almost straight away. It's plain sailing from here on in, however, as the enthusiastic home crowd pull them through. Jamie even threatens to 'rock out' at one point, standing up and moving around before realising he's still playing an acoustic guitar in front of a tent full of people who are sitting down.
*(CW) *Opening with a cracking rendition of 'Good Show' to which a fully rammed tent sang-a-long too was awesome and they just kept it up throughout. They're also the only band I had seen thus far come back for an encore. Singer Jamie may well be 'too rock for acoustic guitars' but this set was pure and unbridled excellence.
*MC Lars *
*(RR) *As succinct and intelligent as ever, the Oxford graduate powered through often sultry, rarely spectacular hip hop beats with his trademark incisive and dramatic lyrics as the second laptop utilising artist on the Truck stage today.
*(AF) *Demonstrating his vocal skills to a packed Truck crowd, those three months touring with Bowling For Soup have certainly given him lots of practice. He's rapturously received and reminds us that music can contain elements of comedy and not be shit.
(TB) MC Lars may be to hip-hop what Sunny Delight is to orange juice, but when he rocks the mic, he rocks the mic RIGHT! Spitting Edgar Allen Poe and Willy Shakespeare shit over his hyperactive E number beats, and matching the lyrical emo sentiment found in his samples with a more literal (and hence naïve) narrative, he's about as demanding on your intellect as an episode of Balamory but still, it's all about fun, right? Plus the guy with the inflatable bananas provides a decent enough metaphor for the music, so thank you.
*Fonda 500 *
*(TB) *With songs about simians, Jesus and robots from outer space, I had Fonda 500 down as twee-er than a fowest full of twees. Turns out they ROCK! For whilst songs like 'Computer Freaks Of The Galaxy' and 'The Colour And The Birdsongs Are One And The Same' sound like cutesy electro ramblings from the comfort of your own stereo, on stage they're turned into pumping disco-geetar-core beasts, with everything from Brakes to Russ Abbot free-styled over the top. If you close your eyes you could just about imagine that Hot Hot Heat have grown beards, bought instruments with bigger red buttons on them and acquired a sense of humour. Open your eyes, though, and you'll see fresh-faced indie darlings surrounding a bear on keyboards. Figures. But still they're the most exhilarating band in a day of exhilarating bands. Buy the record, eat the record.
*(AF) * Sound interesting and fun as ever from the edge of a packed tent.
*The Raveonettes *
* **(TB) *When the sun goes down, the dark shades and white heat come out to play. A bit like comfort eating and drum n' bass, you pretty much know where you are with The Raveonettes; it's just a bit of a thrill to experience how you get there in the first place. Not that this makes them rapidly unexciting, far from it, it's just you know there's always a band that understands how being in a leather-clad bicycle gang is much better when you actually sound like you are too. If Phil Spector were dead then his musical (ahem) spectre would be writhing its way all through their new material, the songs achieving wall-of-sound like they just need winding up and placing in the hands of cucumber-cool cheekbone-sporters. Plus with songs like 'Attack Of The Ghost Riders', 'Ode To LA' and 'That Great Love Sound', it goosebumps-all-over time. Feedback is a rhythm too, y'know.
* *(AF) Fail to convince with their dull as ditchwater live show.
(KP) Compared to the last time I saw them, the Raveonettes actually seemed to enjoy and get into this. Pleasantly surprising. Or maybe that was the home-made wine thinking.
*(RR) *The tired retro New Rock Revolution that took place a few years ago sadly lives on at Truck in this Danish duo. While eschewing the horribly predictable garage rock formula that so many use, there is nothing revolutionary here. There's not even much that is fun.
*Editors *
* *(KP) I've heard it all before and I'd still rather listen to Joy Division.
*(RR) *See Battle. Just a bit more miserable. They are from Brum after all.
Biffy Clyro
*(AF) * Triumphantly end the first day's proceedings, many sing along moments ensue, pop/emo/whatever – you know the drill. Their set highlights the breadth of their catalogue and looking at the crowd you realise that this band have brought the delights of Truck to a whole new audience – this can only be a good thing.
(TB) I'll throw my hands up and admit to you, I have a bit of a soft spot for Biffy Clyro, realised when the disco beat from 'Glitter & Trauma' switched to pounding power-chord assault. Which meant enjoyment during the obvious moments - '57', 'Joy Discovery Invention', 'Eradicate The Doubt' - but also meant the occasional bout of meh when the band bash out their tunes with invariable intensity. So BiffyWorld is here presented as a place that's terrible to live on, but it'd be worth looking at the timeshares. Hats off to guitarist too, what with risking wearing white jeans at a festival and all…
*(KP) *This show rekindled a flame in my heart that has long been out. For epic live shows with incredible atmosphere and audience intensity, Biffy Clyro are still top of their game.
*(RR) *More powerful than I've ever seen before, the crazed Scotsmen have clearly scorned their earlier Mogwai-esque roots in favour for rock to grace stadia with. Where there was quite definite light and shade, only rock remains. The rock is brought with such ferocity and it works so, so well.
Sunday
*Scratch And Sniff *
*(CW) *OK, so it is Sunday and it is early and I am soaked wet through with the rain that is still lashing down. Too early for this shit. Time for a bacon butty me thinks. On my way to the site I catch a little of local folk act Scratch & Sniff in the acoustic tent. Sounds nice enough but at this time of the morning in these weather conditions, seeing a woman having a good fiddle just doesn't do it for me!
The Half Rabbits
*(AF) * Definitely full of promise. They don't look 100% lively but then for 11 on a Sunday morning we can forgive them, their indie/art rock with a twist comes over well, rather unlike Colony, who follow. I don't want to remember Truck for bad bands so I won't dwell too much but after a couple of songs I couldn't handle any more tuneless waffle.
*Trailer Trash Orchestra *
(TB) After an evening of DJ Marky worship and All Night Disco Partying, the morning after wasn't going to be made much easier with local Battle Of The Bands victors' making 'Sweet Child O' Mine' sound even worse than before. Isn't there some sort of BOTB law that states the winners must attempt said song? Luckily, my faith in cover versions was restored instantly when The Trailer Trash Orchestra , complete with camper-than-campsite pink cowboy hat, burst into a hillbilly rendition of The Ramones' 'I Wanna Be Sedated' . Yee-haw! Shame that The Bad Livers, The Kingswoods and Hayseed Dixie have become more successful with the same idea, but TTO's repertoire from Buzzcocks to Gram Parsons is just the sort of pick-me-up needed on the morning after.
Martin Grech
*(AF) *Had he actually practiced for this gig I might be finding it difficult to put into words my feelings here. He clearly didn't (and couldn't remember how to play half of the songs) but I can still quite confidently state that he's an unbelievable, undeniable talent who's shy and charming along with it, but I wasn't exactly blown away like I have been on previous Grech experiences. It was worth it alone for his comical wince after the announcer pronounced his name wrong…IT'S GRECK GODDAMMIT!
*(TB) *Judging solely on his performance in the Acoustic Tent, it appears that I don't really get Martin Grech. Okay, so I appreciate his right to make music, and if it helps him vent some sort of emotional turmoil then great. I just don't see why his 'plaintive' (read: weak) strumming and physically-rather-than-emotionally-painful caterwauling should be hailed as anything more than underwhelming. The sooner he proves this approach to his music to be a knee-jerk reaction, the better.
*(KP) *I fell in love. Seriously. All the weight, effects and instruments behind the recordings and full live shows do no justice to the power of this scuzzy-headed imp's brain-shatteringly evocative voice. Effortlessly spectacular.
*Mesaplex *
(CW) One of the revelations of the weekend, Mesaplex are three men with a laptop, guitar and bass and my god they are awesome! Thumping beats over intriguing riffs. Some of their stuff reminded me of the more epic moments of ...Meanwhile, Back In Communist Russia . It is only after I find out that 2 parts of the band are indeed ex-members of the now defunct MBICR. This is one band I really need to see again.
*(TB) *Alright in a bleepy, atmospherical way; presumably like post-rock was before it became synonymous with the quiet/loud formula. Would have been a reasonable substitute for 65daysofstatic if the songscapes had more peaks, more troughs, and more deviation from the mood it actually delivered. Still, for two guitars and a fiddly bit of computer equipment they do quite a good job.
Fell City Girl
(AF) Singer Phil McMinn's vocal performance is truly spectacular. In the driving Sunday rain (and by God, it rained) his leads his young Oxford-based band through a set full of character. Plenty of tunes and bagfuls of ideas, the only regret is that he only brought a handful of CDs along with him to sell afterwards. They last seconds.
C-Jags
*(RR) *Great shoes but the rest sounded like something from Quadrophenia or something. Erm, hello! It's 2005. What is that in your hair? Brylcreem? Really? Have a think. Get some rockers in to clear this mod rubbish OUT. Obviously from London.
(AF) Following Fel City Girl, they sound horribly wrong, performing Joy Division crossed with bad Pulp songs in a summery fashion.
*Trademark *
*(CW) *Time for my beloved Trademark and yet again, I am right at the front wearing a stupid grin. The guys come on stage wearing suits straight from Burtons; gone are the lab coats of the past. Their brand of '80s-influenced electro-pop has the room hooked throughout mixing up old classics such as 'Interim' along with newer tracks from their forthcoming album. Closing out with a cracking rendition of 'Whiskey In The Jar' was inspired and long after they have gone they leave a packed Barn still grinning. I leave the front of the stage convinced I will see nothing better this weekend. Little did I know that one of the band members had something even more amazing in store for me...
*(RR) *Every instrument was unreal. In the way that it did not take human skill to play. Just buttons and shit. Electropop is very popular at the moment luckily for them. Nice cover of Whiskey In The Jar (oh) too.
*Hondo Maclean *
*(RR) *Bringing the Welsh Metal to Oxford in some mighty fashion, this troupe blustered about the stage sprawling screamo metal core or whatever with vigour and gusto. It was very nice.
*Winnebago Deal *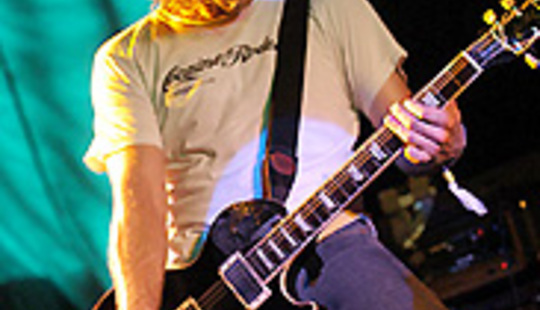 *(KP) *Not much good for the hangover but a riot none-the-less. They just seem to get louder and angrier which is fine by me.
*(RR) *There are more and more songs with every show and this was no different. The Deal have the greatest anthems for drinking and shouting to when you just wanna get absolutely mindless and bust stuff up. RAH!
*Reuben *
*(RR) *Carried by their affable frontman, Reuben rocked stuff like girls just can't. Girls don't get mortally rejected like boys. Fact. Girls aren't geeks when boys are beautiful. Fact. Teenage angst! All over yer face!!
*Chris T-T *
*(TB) *You gotta hand it to Chris T-T, even with a splitting headache and screamo spilling across the site from the Main Stage, he can still give a powerful enough performance to silence a rammed Acoustic Tent into flabbergasted awe during the pregnant pauses. Here to showcase his forthcoming political album of 'Red Songs', it's good to know that there's still enough sincere comic relief ( "The Countryside Alliance – we'll call them 'The Cunts' for short… ") and biting truth in his new material to make it stand up with his best work, and that's saying something. Too many protest singers, not enough protest songs…luckily we found the best one on a rainy Sunday in Oxfordshire. Plus 'Drink Beer' was, as usual in this sort of instance, a fitting finale. Fantastic.
(CW) He comes on stage and the crowd falls silent, expectant of what Chris will perform and he does not disappoint at all. From attacking the 'Country Alliance' to songs about drinking beer are all carried off sublimely even despite the discomfort Chris is suffering onstage with a killer headache. He comes off to rapturous applause and I can't help but wonder if he appreciates it feeling like he does.
*(KP) *Witty and entertaining but not in a Tenacious D way. The lyrics have far more depth and weight than at first glance and, cor, this guy can SING.
*The Eptstein *
*(CW) *This band are strange as I heard them in two states. Fully awake and aware of what was going on, they were OK but nothing special but when I was drifting off to sleep they were an amazing band to have drifting around my hazey mind. When I come out of my haze, the band have finished and I am smiling. Still deciding if I like them or not but for that moment between awake and sleep, they were perfect.
*Robochrist *
*(TB) * "Hello Didcot!" screams Robochrist , the only artist this weekend worthy of attention from everyone, even if half of them would probably see a grown man in sado-masochistic Kiss make-up, floating sideburns and a Mohican and run the hills. They'd be fools, however, seeing as they'd miss a flurry of TV theme samples (Geordie Racer being the most pleasing), four-to-the-floor-eight-to-yer-face beats, turbo-thrash guitar and the sort of plunderphonic mayhem that makes a Werther's Original advert sound like a sex-pest confession. This sonically baffling assault is the only time this weekend where you'd be able to have your jaw on the floor but still be pissing yourself laughing, which is more than you can say for most Sunday afternoons. And who would've thunk that the doom-pah-pah version of 'I Love Horses' would better the original? Wow.
(JB) Robochrist will always be a highlight of mine at any festival he's playing. A single strange dude, head painted silver, mohawk standing tall and jet black, dressed in a shimmering black skintight costume, takes the stage to sound of the 'Old Spice' music... and then, KER-LAAAAANG!!, he's playing dark-ass metal guitar over it! KER-LAAAAANG!! And there are church bells chiming ominously as well, and then, fuck, it's straight into some breakneck speed digital thrashing punk-rock stupidity that's so loud and ridiculous that the volume paints a smile across my face. He doesn't so much play to you as drag you kicking and screaming through his set, which includes a remix of "I Love Ponies - they're my friends!", stitched together samples featuring everyone from Aswad to Simon Cowell to Johnny Vegas... there is so much going on, and it's done with such a brilliant sense of humour. Robochrist RULES.
*A Scholar & A Physician *
*(CW) *I head to the Lounge tent. I recognise the tune coming out of there... who the hell is playing THAT!?! I poke my head in and there, onstage is Trademark singer Ollie and his 'other' band, A Scholar & A Physician bring the crowd to life with their cover of Partners In Kryme's 'Turtle Power' . This has me going like a good 'un and I am jiving as much as I can in the cramped doorway to this classic. Sadly, their next song is their last but 'The Counting Song' has everyone smiling again due to the fools who can't count to 66. Now THAT is possibly my highlight of the weekend.
*Lux Luther *
*(RR) *Led by a vivacious and dreamy frontman this London gang lofted sweet anthems through the air in a Boomtown Rats kinda way. It's pretty sweet. Ended my day of rock in poor fashion.
*The Walk Off *
*(TB) *Whoever said baggy was dead was probably right, but if you've ever wanted to put several million volts through such a tired genre and force it to make people pogo rather than sway about, then I point you in the direction of The Walk Off. So maybe their shouty pumpy techno-rock seems a bit of a step down after Robochrist, but it's still a source of filthy-dirty tanked-up dance fun. Plus they've brought a six-foot crowd-surfing bear with them, which means I can do my Bunglist Massive joke.
*Piney Gir *
*(CW) *This is her first time on the main stage and it is clear from the outset she is set to deliver! Opening with 'Jezebel' sets the crowd off perfectly and even a few minor 'hitches' (like nearly falling flat on her ass after tripping on a stage wire) she carries it off with her typical grace and charm. Highlights of her set include a duet with Jane Motormark, the introduction of her Country Roadshow (her country & western backing band) and, quite memorably, her duet of 'Nightsong' with Truck Records own P.C. ! Think Shane McGowan and you are ont he right track but being the legend he is, he carried it off with a fat cigar in one hand and champagne in the other. Sir Paul, we salute you!
(KP) I like Piney Gir. She makes me want to dance and shout 'HELL YEAH'. Much better than last year – the truck stage suits her well.
Brakes
*(AF) *Restoring my faith in the afternoon, their completely bizarre offerings somehow sit very well in the my head, from sub-30 noisy lambastes ('Cheney', 'Pick Up The Phone') through to country-tinged pop gems about getting Ponies. Marvelous.
*(TB) *There's not been a more ludicrously distinct supergroup since, uh… Emerson Lake and Palmer, but Brakes ' ramshackle British Foot Parade wonder is all the more endearing for it. Anyone who can switch effortlessly from the joyous retroclash of 'All Night Disco Party' to straight-up rawking Camper Van Beethoven covers is bound to be pretty enjoyable. And whoever tells you that five-second songs aren't the way forward obviously doesn't wear out their attention span often enough.
*(KP) *All I've heard about this lot so far is British Sea Power this and Electric Soft Parade that. After all the hype I was happy to have my scepticism proven firmly wrong. Some fantastic tunes and great covers, Brakes are on my 'to buy' list.
Captive State
*(AF) *The sun just about emerges for long enough to dry out my tent, so I take this opportunity to take it down. Lyrically challenging, they sounded great but I'll leave a more detailed appraisal to another DiSer…
Cassette For Cassette
*(AF) *They're female frontedremind me of former Reading heroes Saloon, which is a good thing, but their apparent disinterest and inconsistent songs don't warrant much attention at this stage.
Towers of London
(RR) No altercation with Winnebago Deal today. They had to shock the crowd some other way. Didn't hang around long enough to be bothered.
*(KP) *If this band spent more time writing their music and less preening and dressing themselves, they might actually be worth the hype that surrounds them. Short lived entertainment unless watching a few monitors being kicked around really does it for you.
*65daysofstatic **
*(KP) *Watching this lot in full daylight seems to knock a few shades of intensity from them. Regardless, one of the most impassioned and brutal acts of the weekend.
*(RR) *On fire in the mega-tent, this Sheffield band hammer their intense drum and bass riddled post-rock right the way through to the back of the farm and pick up more than a couple of dancing admirers along the way.
*This Ain't Vegas *
*(KP) *Sounded like Biker Grove rioting with guitars. That's a good thing by the way. Probably my favourite find of the weekend.
iForward Russia!
*(KP) *This Leeds based quartet are unstoppable. I thought I'd seen them play well before but this weekend they were ludicrously good. If you haven't already, download some of their tracks, pronto!
*(TB) *As iForward Russia! say themselves, "we're magic, and we've got more numbers…here's 'Eleven' !". The prefix is 'agit', the suffix is 'core', but the music itself? I'm working on that. Because the beats say 'punk-funk', the guitars say 'alt.rock', the lyrics say 'political', the vocals say 'WAAAAAAAAAAH!!' and the overall vibe says 'You Shall Love This Band'. The latter is the one I'm most sure about. Let's hope the stewards don't mind wiping sweat off the tent, then.
*(AF) *Whilst many were off watching The Magic Numbers, The Trailer Park tent hosted a band with their own 'numbers' who've rightfully built up a reputation for blistering live performances. I say 'Numbers', as all their songs are titled numerically, named after the order in which they were written. They are Leeds based iForward Russia!, who are truly one of the most exciting bands around right now in this correspondent's opinion. Sounding like a shouty Bloc Party fused with The Pixies, they storm through their set with great urgency, singer Tom moving about faster than your eyes can follow. It's exhilarating to watch, with Rob providing thunderous basslines, Whiskas and Katie on guitar and drums respectively offering vocal support (most notably on the glorious limited edition single Nine). Eleven rounds off the set and re-affirms my belief in brilliant music, just in case there was any doubt in my mind. The highlight of my festival, and I can't bring myself to watch The Magic Numbers performing Smiths covers and doing countless encores after such an experience.
Do Me Bad Things, The Schla La Las, Patrick Wolf and Winnebago Deal photographed by Ben Jones