What's the most important thing to you in the whole wide world?
I would say music.... so I will... Music!
There's a new band to get down on your skinny knee's, yes, down amongst the spilt beer and crusty knickers. Whilst you're down there you'll find yourself unquestionably rambling the mantra "you rock.. you rock.." in the general direction of the stage. You look up and it hurts your eyes.
Have you heard the words buzzing along the streets? COLOUR OF FIRE! Yes, those three words, taken from a Boards of Canada track - but that's no real point of reference. Two of them have shaggy-70s-porn-Small Faces hair but that's no suggestion of what they're like either. The Queens of the Stone Age stickers on their guitars give a hint…
We've already said stuff like: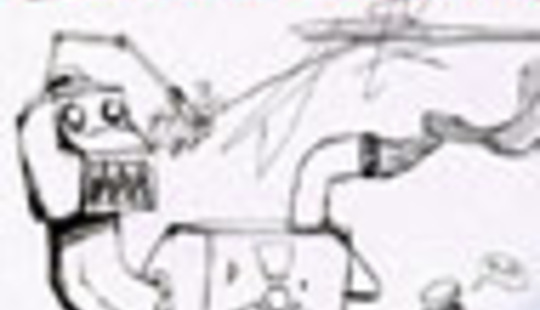 "Confidently, flaunting Icarus Line influences and a love of punk rock sensibilities, 'Robot Rock' kick starts the EP, booting you in the teeth, gripping your throat and belting an irate scream little more than an inch from your face… to heart fluttering vocals…" said by KP here.
AND on seeing them live for the second time I said they were: "..something fresh, all-in-one, true to the pioneering vision of rock'n'roll. Stuff we grow old with and fall in love with, over and over and over again… like cousins of the ..Trail 'o Dead!" Full review: here.
Still confused? Still not convinced? Well then punkwad/elitist-schmuck, you should read the rest of this chat with singer/guitarist Stuart (otherwise known as s2) via the internet just moments ago, just before they zoomed off to Nottingham to play another show in support of InMe and their new friends Biffy Clyro…
What's your favourite Sonic Youth record?
Dirty. Sugar Kane is my main reference point for any tune i have ever written. It's genius.
How do you believe the world came into being?
With a knife and a fork and a belly full of pork.
How come you're not called THE colour of fire?
Because everyone has a The in the name.... and to be honest, i never thought of that till now. How come you're not called THE drowned in sound.com?
What's it been like playing with well-on-their-way-to-getting-established bands like InMe and Biffy?
Sometimes frustrating, always sexual. InMe's fans are fucking nuts though.
If a band plays to no-one does the band still exist?
No. That "i'll play to 5 people if i have to" stuff is bullshit. Everyone wants a big crowd. Everyone!
What's the loudest thing you've ever heard?
Shellac's soundcheck.
How do you feel about this war that's about to happen?
I feel like all my birthdays came at once, then the children's entertainer that i hired told me his daily rate was a thousand pounds with a knife to my throat.
In the event of a fire, what's the first thing you should do?
Cover your genitals.
What bands have changed your life and why?
Sonic Youth and Fugazi taught me how to play a dischord. Madonna taught me how to suck a dick.
What 5 things should everyone do before 2003 ends?
Eat potassium.
Throw away their mobile phone.
Stop washing.
Learn a martial art.
Buy our single.
Tell us about this side-project we've heard about...
erm... it's still in rather embryonic stage, but basically I play drums and the matt plays guitar. It may be called And you will know us by the queen's of the sonic bright oxes you black emperor.... or it may be called portraits of penis.
What are your all time, top 5 records?
I would have to say in this order.
1:Elliot Smith: Roman Candle
2:Sonic Youth: Dirty
3:Godspeed You! Black Emperor: Raise your skinny fists...
4:Jonathan Fire Eater: Tremble under boom lights.
5:Oxes: Oxes
What new bands do you recommend?
The icarus line are amazing. but i have a feeling that if they haven't split up now, then they will soon. I also think Ursa are the fucking bomb.
What're the COF plans in 2003?
Takeover music etc etc... we all want to relocate to Brighton too. Have oxes support us. Have a fight with Our Lady Peace.
Has the revolution landed?
Not yet. We're not a revolutionary band to be honest. But I would say that we see our mission as a battered plane full of genetically modified rhinos about to crash into a school full of bricks.
Do you still not get it? Seriously? Go see them? Still confused? Well, just go talk to yourself very loudly in a darkened room and if you still don't believe this is the most important band around right now, possible of uniting the rock scene with the art scene and taking over the world… WHOOPS! I'm blowing this waaay outta proportion, I'm just very excited.. and we all know what hype can do, right?
The band play a Drowned in Sound show on Weds 29th @ the Windmil, Brixton, London, for just £3 with support from Seachange and Wink. And they release their debut single 'Decisions, Decisions', March 17th.
More dates and info here.