There's this great moment towards the conclusion of tonight's show where, during 'You! Me! Dancing!', both Gareth and Neil Los Campesinos! direct the crowd's attention to Ellen LC! just as the bass drops. Shyly, but clearly enjoying herself, she beams and thrums the riff. This is the kind of thing that happens when you're having a good night, and everyone in the crammed-out Whelans knows they're having a good time.
It was the sort of night where you loaded out in double-quick time, wailing Kings of Leon's 'Sex on Fire' very loudly through the corridors, just because it was such a good night; a ridiculous amount of flight cases, bags and boxes flying through 32 pairs of hands but all with a beatific beam.
It all started with a TNV set that was absolutely fantastic. Tight bursts of multiple songs that ripped through the swiftly multiplying early-doors crowd like garage pop bullets. There's no tonic on a gig night quite like the opening act shredding the stage, and all it does is inspire everyone else – both No Age and LC are in full force in the crowd, watching and admiring – to hit the top of their game.
No Age are the most brutal they've been so far; still keeping the psyche edge that makes them great, but flooding the room with reverb and distortion. It's truly exciting stuff, while LC! push the envelope with another great set that ends with half the band (no mean feat) straddling the venues monitors, imploring the crowd to exhort "one blink for yes! 2 blinks for no!" back at them in their now-traditional set-closer.
Last night was simply amazing, and all bands agreed, overall the best night of the tour. We keep saying that, don't we? Though, it stands to reason, these three bands are egging each other one, pushing each other to be better each night.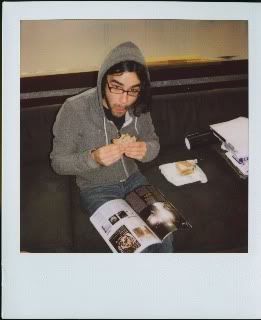 There is, of course, egging on of another kind; I'm sorry to say that some form of drinking culture has emerged on the Shred tour bus. Shocking, I know, but we try and endure. Last night set the booze breaking record as a entire (large) bottle of Bushmills whiskey disappeared in under ten minutes. Still it was better than Leeds, where the vicinity was cleared of all alcohol before stage time. Ooops. LC! have even take to doing shots before the last song of the night. We knew you could do it, guys.

As I write this enroute to Stranraer on the second ferry crossing in consecutive days, I feel like shit. Happy shit, but turd-u-like nonetheless. This is mainly due to late bedtimes every night and the two 7am wake up calls to get on these soulless vessels that rock like a motherfucker and fleece you for bad cooked breakfasts. Seriously, ask us about it sometime, and you'll have to avoid the bile spat out about bad low-salt and sugar beans and unidentifiable sweet fried matter. Our fault for eating it I guess.

Gareth LC! is going to guest on TNV's set every night from now on, so that's worth checking out. We're not sure what he's doing, (possibly playing bass – a role almost filled by Guto Super Furries, fact fans), but it'll be cool as. This tour always is.

ON THE SHREDYRFACE.com site:

Videos from night three and day four:


Gareth Los Camp appraises day 2
No Age Live.


Blogs:
From Ollie Los Camp
From Dean No Age
Tour Diary

Twitter updates:
Constant, mundane but oddly addictive.

+ more.

Stay tuned and speak tomorrow folks.