Last week, our new website hit the internetz. Now that the dust has settled we could really use a drink to help cure post-website relaunch stress disorder (PWRSD is what scientists are calling it).
Thankfully, the folks at ATP have kindly asked us if we'd like to join forces with them to throw an unofficial site relaunch party this Thursday (Nov 21st 2013) at Netil House in London's super-cool East London. Two of our favourite punk-as-fuck, rock-your-face-off bands have said yes to playing live - you shoulda heard the squeals of fanboy excitement in our office!
Fresh from a coffin in the depths of LA, rock & roll carcass-kickers The Icarus Line will treat us to tunes from their latest career high Slave Vows (seriously, go give it a listen over on Spin's website right now!). They'll be joined by very special guests and DiS album-of-the-year-contenders Future of the Left, who've agreed - as we asked we really nicely by writing about how awesome they are for the past however-many years - to come back to London after last week's triumphant show at Heaven. This two-some will be joined by Broken DC, as well as what is being billed as "Drowned in Sound DJs" which may or many not involve me playing some Health, Liars and No Age CDs whilst trying not to let any silence hang in the air.
So in summary... Thursday. East London. A show that might kill rock & roll and bury it forever. Miss it and you'll be jealously reading about it on our messageboard for weeks to come. We're excited. You really oughta be too.
Pick up your tickets from the ATP website and add it to your diary/show off that you're going over on our Facebook page. Netil House is located at 1 Westgate Street, London, E8 3RL.
Here's an awesome poster DiS reader Graeme Chapman has kindly made for the show.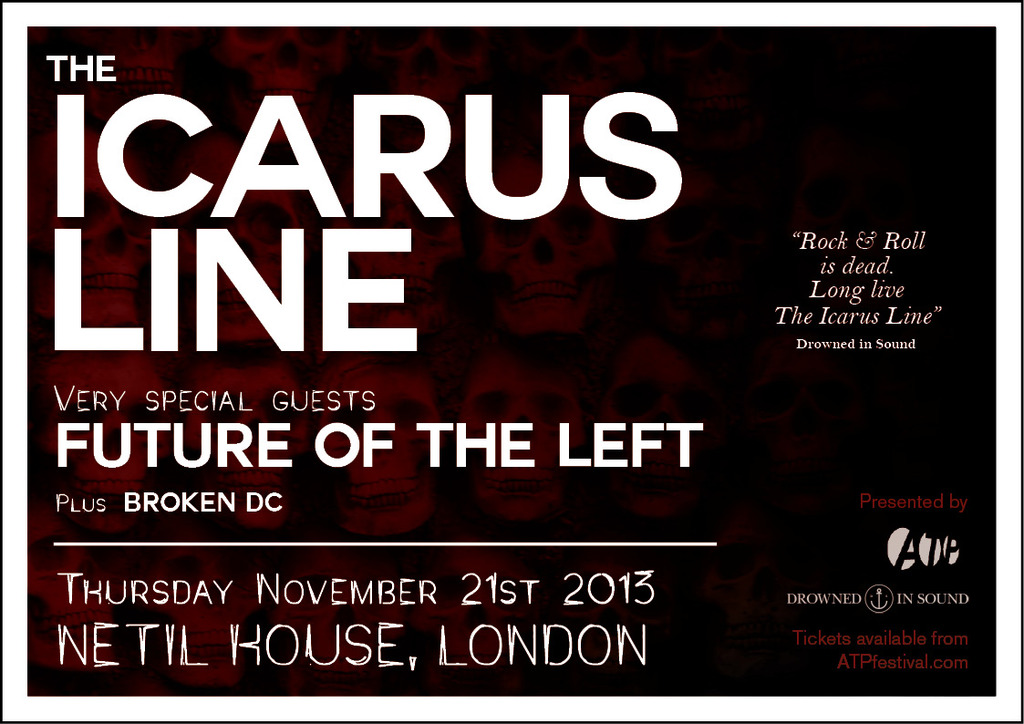 Listen
Broken DC
The Icarus Line
Future of the Left