DiS has arrived in the bleak, snow-laden wasteland, packed full of cheerful reindeer-munchers, that is Finland for a two-day (mainly) rock festival. All but ten of the 77 acts showing on one of the five stages here at Ilosaarirock are natives. There's also a healthy smattering of local talent from Joensuu (population 58,000). With Finland's most famous glam export, Hanoi Rocks currently experiencing something of a resurgence (however inadvisable), pseudo-goth bands like The Rasmus and HIM hitting the UK charts regularly, and breaking lo-fi dance act Husky Rescue appearing at Glastonbury last month, there's no doubt that Finnish rock is to be taken seriously.
The festival organisers have included a clearly self-deprecating and slightly ironic compilation record in the press pack, entitled What About Finland. The three CDs cover nu-jazz/electronica, pop/rock and metal/hardrock and after experiencing the festival first hand, DiS can concur that this collection is indicative of popular trends in Finland.
The rock scene in Finland is quite simply incredible. Metallers everywhere! And nobody stands and points at them! Indeed, bands such as the cello-driven metal quintet Apocalyptica (pictured left) shoot to the top of the national charts due to the phenomenal support here: an achievement quite unfathomable on British shores.
After generally perusing the delights of the Finnish landscape of ubiquitous lakes and forestry and cuisine of tender smoked salmon washed down with lashings of beer, DiS heads down to the festival site to get a load of the pre-festival clubs held on the site. The sight of captivating singer Jessi Frey mitigates the apprehension of arriving to the polished metal tones of Velcra. DiS stands there wondering which industrial scrap heap this band is welding their tunes from and upon closer inspection finds their DJ plying his trade in a gimp mask and a bathrobe. Sounding like early NIN fronted by Tairrie B is a Good Thing.
From the reassuring confines of a beer area - you were strictly prohibited from wandering aimlessly around with alcohol thus creating a much cleaner environment in the rest of the festival - I witnessed the dreadlocked and barefooted free spirit that is Mariska. This hip-hop artist clearly has a lot of support from the younger crowd tonight but her silky crooning flows straight over my head because I don't understand a single word she's saying. On a sadder note, due to hefty inebriation at this point, your intrepid reporter was unable/disable to get to the Icehall club to witness the extraordinarily named Anal Thunder. They're playing in London at the 12 Bar Club on July 30. See you there? No?
However, Friday is clearly the night for highly attractive female musicians to grace the second stage, sponsored and compèred by trendy radio station YLEX, for next up is the hugely popular girl-band Tiktak. Yes, they're as hot as Girls Aloud, but look like they play rock music like Busted except heavier. Releasing the wonderfully-titled DVD Look Who's Playing... Their Own Instruments! last year, they are a major label's dream. Sadly, the trends follow and they don't write their own songs. You can't possibly hate them though. Not completely. It starts getting dusky outside at this point. It's 1am. Yes, that's right. 22 hours of pure, unadulterated sunshine. And it's over 30°C. So much for Santa.
Saturday sees a majority of metal taking up the reins with American imports Monster Magnet and angry beavers Agnostic Front lining up in front of 20,000 rabid Finns (or part thereof),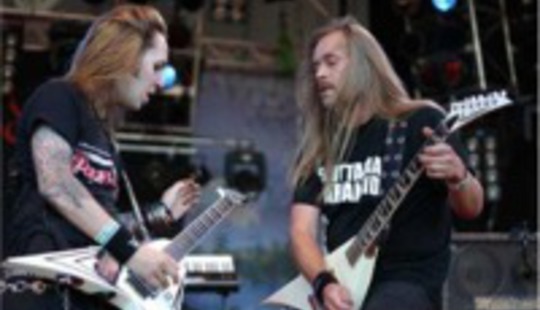 as well as the aforementioned Apocalyptica becoming my personal majestic highlight of the day, with their technically flawless and visually astounding show during the height of the afternoon sun. Also showcased on the main stage were platinum-sellers Children of Bodom (pictured right), playing their diligent mix of heavy and classic metal, and Kotiteollisuus, whose sludgy metal came the closest to being 'nu' and was the quickest to become boring. Another kettle of fish were Sentenced who closed the night's Metelli-club. This being their farewell tour, excited fans came from far and wide as they brought the curtain down on a twenty-year career. Unconfirmed reports state there was a coffin in their dressing room. None. More. Metal.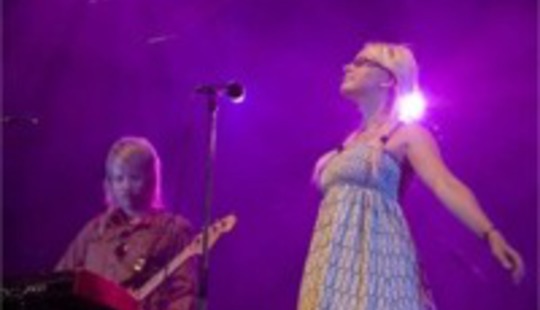 Before that, however, came the lilting, soothing, musical ray of sunshine known as Husky Rescue (left). This band will be on coffee tables across the UK if good music has anything to do with it. Sadly, it rarely does. So don't hold your breath. While still talking about about originality, Finland appears to have its very own experimental genii in the Cleaning Women and Kimmo Pohjonen.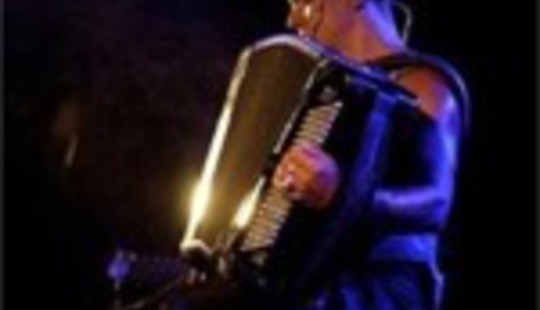 The former are actually men who create their instruments out of clothes horses and other trinkets and use the results to play a rather distinctive form of art-rock with themes along the (washing) lines of cleaning. The latter (pictured right) is a solo accordian virtuoso who has played in rock bands but whose solo works are branded with a psychosis and unpredictability that has garnered worldwide acclaim.
The sole UK representative playing at the festival was the MOBO 'Best Hip Hop Artist' winner, Blak Twang, who, in a feat of unmatched British-ness, missed their initial flight. And then their microphones didn't work. And then all their vocals were lost in the aircraft hangar of the second stage. Oh dear. Another imported disappointment was the DKT/MC5 fronted by Mark Arm, who have clearly lost any punkish swagger they might have ever had and instead just bounce slightly and stand there the rest of the time like reasonably affable old men. Someone really should have told them.
Sunday saw even more heavy bands gracing the Ilosaarirock festival's larger stages with Sonata Arctica's graceful power metal and Sweden's Backyard Babies producing the drug-addled rock 'n' roll shenanigans that they've delivered for so long now. Amon Tobin (below) travelled all the way from Canada to play here in a circus tent, which is the greatest guarantee of anything resembling darkness. He definitely needs the confines of the shadows to maximise the impact of his dynamic dance set, which is constructed from dreamy soundscapes closely followed by a heavy breakbeat rollercoaster and then by deep metal grooves.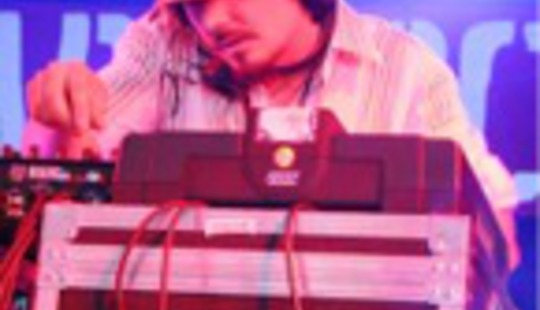 This was clearly the highlight for some of the audience here as they immersed themselves in his sounds. Giant Robot's dubby rap rocked the crowd until it started raining. Apparently it was the first rain at the festival in five years, and gratefully received as the relentless sunshine was quick transforming the arena into a throat-destroying dustbowl.
Finland, despite the wonderful rock culture and metal overlords who clearly rule over this once forbidden land, has its fallibilities. In Zen Café and Don Johnson Big Band lie two of the country's biggest selling acts and, as with any artist of this stature in any country, there is that certain prerequisite of being wholly and immorally MOR. Zen Café are a mainstay of Finnish rock apparently but sadly without comprehending any of the undoubtedly wonderful lyrics they just seem terribly, terribly mediocre and only worth hanging around for to catch the magnificent fireworks show that followed. Don Johnson Big Band, on the other hand, are a young and funky jazz and hip hop band that merely seem intent on annoying the hell out of me with quirky and ironic covers of songs that were terrible in the first place, and generally playing terrible music. DiS has probably waded in here and missed the culture gap somewhere with our horribly laconic and pessimistic attitude to life, but it's doubtful somehow.
Up and coming Coldplay-alikes Maryland propped up the tiny Truck stage with their quaint songwriting and gentle stage presence. This was where the homegrown Joensuu talent plied their trade this weekend and one notable act was Voltas who won the Finnish Battle of the Bands and played the international heat at London Astoria. However, despite much early promise and the fact that singer Kaapo Kokkonen firmly believes he is a Rock Star of the highest order, Voltas fall short of expectation, achieving only the heights of semi-brash glam-rock wannabes. Disco Ensemble, though, are alternative rock at their finest, giving 'emo' a good name. This lively quartet tumble around the stage thrusting their high-fuelled indie upon the audience with floppy hair and sweat and tight jeans. They certainly have the look and the sound to succeed here, if they persevere. On to more foreigners! Phoenix have arrived from France and they're friends of Air. Suitably, they play sultry, polished trendy pop with a musty peacenik air for wine gatherings and dinner parties for those ultra-cool twentysomethings. And the crowd… goes… wild. Obviously.
Indeed, the crowd had every right to go wild with enthusiasm and a remarkable level of pleasure for this festival was everything that the world's current pseudo-leftist and wannabe-indie utopian thinking wishes for. Ilosaarirock Festival is devoid of the corporate branding and overcrowding that the Carling Festival has fallen foul of by raising money through good local sponsors and keeping the capacity down. While the festival area is almost forty per cent of Reading's the capacity is only twenty per cent. It really shows that people have their own room to wander round and don't have to queue for everything. And then there's the beach of course. That helps. Helping to keep costs down are 1,500 volunteers who have assorted jobs all the way from booking the bands and all the way down to teams of kids picking up litter throughout the day, all in the name of keeping the paying customers happy.
We have all walked through British festivals and felt ever so slightly annoyed at pretty much everything that one comes across or has to walk through or try to avoid sitting on, but have just put it down to the Festival Experience. The folk at Ilosaarirock have bucked that trend and created the True Festival Experience. DiS has found its new spiritual home.