Tucked away in their dressing room (which, tonight, is a record shop in a converted hotel) The Long Blondes are in playful mood. They sip beers, and offer me sandwiches. A man with a camcorder is recording footage for an upcoming documentary. DiS likes the idea of being famous. So, too, do the Blondes. "It's only rubbish bands who don't want to be famous," offers guitarist Dorian when I suggest that some of their contemporaries seem to shy away from the spotlight. Fame, fashion and films are three of the more sensible topics we cover over the course of the next twenty seven minutes...
The new single, 'Separated By Motorways', is about two girls who go on the run. On the motorway. Where did the inspiration for that come from?
Kate (vocals): Me! It's about one specific girl, a very good friend of mine who lives across the opposite side of the A1, A14 from me. It's about sitting at work and wanting to escape, just wanting to go out and have fun like when we were younger. But people can read into it what they want!
Dorian: It's almost like a film, isn't it?
Kate: Yeah, it is. That's why it's not that important what the idea behind it is. It's whatever people can take from it that's important.
That's one thing I have noticed in your songs, they seem to have a strong filmic element. Is cinema a big inspiration to you?
Dorian: Definitely.
Kate: We'd all rather watch films than live life. We're quite an escapist band.
Dorian: We couldn't really do the Arctic Monkeys type realist thing. We're the complete opposite to that. The only reason we formed a band was to get away from reality. We just used to sit at our desks and dream about doing other things. We still do!
Kate: We're still in those jobs.
Dorian: That's what it's about. It's escapist pop music. I'm glad you see that, you're the first person to have picked it out.
Are there any particular films that you would you describe as a reference point?
Screech (drums): God, loads... Alfred Hitchcock's a big inspiration, the whole film noir thing is very important because it's stylish but there's depth to it as well.
Reenie (bass): Channel Four are about to do a season that's got pretty much everything I like in it. Namely thinly veiled pornography!
Screech: A cross between the French new wave and British social realism... I think that's what we're like as a band.
Kate: I like romance. I'm a girl!
Dorian: We're a romantic band. A bit arch, a bit camp.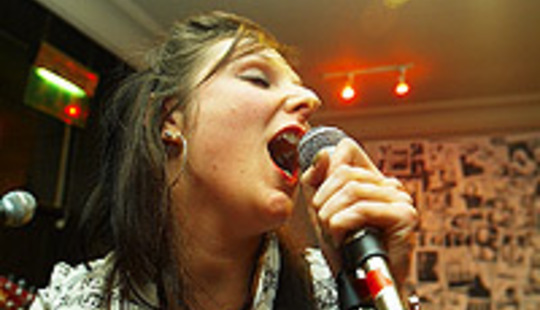 Sheffield music is attracting a lot of attention at the moment. Do you feel part of the 'New Yorkshire' scene?
Kate: We feel a kinship with Sheffield, we're a Sheffield band, but not with the other bands necessarily. We love this city, but we've never met them!
Dorian: We don't even know who they are.
Screech: We only speak to each other, really. Morrissey was a bit generous with his quote about only needing seven friends, I thought. I'm happy with just these four.
You supported Franz Ferdinand recently on their tour. How was that?
Dorian: It was great. They were really nice; generous and open minded. The complete opposite of us, really.
The other four roar with laughter.
Kate: We didn't think anyone would know who we were, but when our guitar tech, who isn't really a guitar tech at all, he's the guitarist from The Sugars, went onstage everyone just went mad. I thought Kapronokis had walked on or something.
Dorian: (incredulously) Kapronokis?!
More laughter.
Kate: I like to call him Kapronokis.
Screech: If you're typing this out, please amend the spelling errors!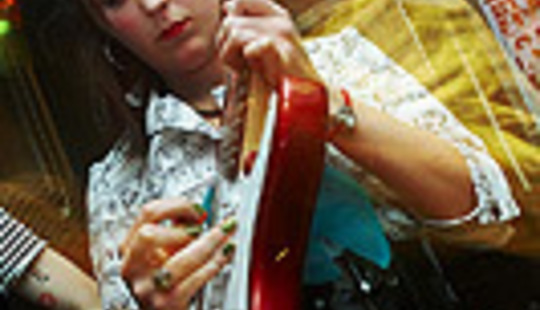 They're very much a stadium band now aren't they? Is that something you aspire to?
Dorian: Absolutely. Not wanting to do that is the classic English indie band mentality. It's rubbish. We're not like that, we want to be a pop band.
Screech: We like to play the smaller venues, too. We want that contrast, so we don't lose our edge.
Kate: We played with Franz Ferdinand at Leeds Brunell Social Club just after 'Take Me Out' was released. It was insane, over 1,000 people trying to get in. And it was supposed to be their one night off from a grueling tour, they needn't have done that. We'd do that too.
Dorian: We know our roots. Half of the stuff that happens to us is just a pleasant surprise. We started by accident, because we were bored. Being on the phone to Steve Lamacq, it's totally unreal.
Kate: Steve Lamacq kissed me at (Sheffield indie night) Fuzz Club!
Being signed or not being signed. What's the deal at the moment?
Kate: Not being signed, but wanting to be signed!
Dorian: They're all like shy boys at the side of the school disco. As soon as someone makes the first move they'll all be in there.
Kate: I don't think record companies really know what to do with us. We're not formulaic, and if they're not 100% sure that we're going to sell a million copies and fly, they won't take a chance.
Dorian: We're not claiming to be Godspeed! You Black Emperor or anything like that but we're not a Strokes band or a Franz Ferdinand band or an Arctic Monkeys band.
Rumour has it that you want to do away with your old songs and record an album consisting of all new material...
Dorian: That's an awful rumour. It's not true.
Emma (guitar): Someone was interviewing us and their dictaphone wasn't working so they just made it up!
Screech: (holding up a cheese sandwich) Imagine if you conducted the interview with this, and then tried to remember everything we've said.
Mass hysteria.
Reenie: What we actually said was that we wouldn't record all the songs from the live set and put it out as an album. What we actually meant was that we're going to get an orchestra in.
Screech: We don't want to just re-release old stuff.
Dorian: It's probably a record company thing but everybody's repertoire just gets milked these days. We've got enough songs not to do that.
So we won't see you re-releasing 'Giddy Stratospheres' anytime soon?
Kate: Well... you might...
Screech: But it'd be re-recorded, not just released as it was recorded then.
Kate: That's the only song, though. It's a really good song, and we rushed the recording. We play it differently now anyway.
Dorian: So we might do that one again at some point.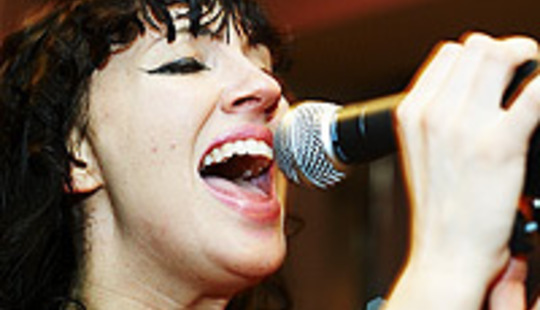 On 'Separated...' you worked with Paul Epworth. How did that come about?
Dorian: He was a fan of us. He came up to Sheffield wanting to record us, so we said "alright". It would be rude not to.
Kate: It was interesting that he picked that song. We didn't see it as a single, but he did.
Screech: We just used to use it to finish the set, bashing it out fast and loud.
The girls collapse in fits of giggles.
Screech: Come on, grow up! I'm not even going to finish that sentence... just edit it out.
Dorian: Back to Paul Epworth...
Kate: He was four hours late, which annoyed us.
Screech: I hate lateness!
Dorian: Paul, you're a nice guy but you need to be more punctual. Simple as that.
You've got something in common with him, Kate, in that you were both featured NME's 'Cool List' this year...
Kate: He was higher than me! But don't ask me anything about that.
Sorry... but if you could have a list of your own, who would be on it?
Dorian: I'd say... no, this is going to sound really stupid...
All: Go on, you've started now.
Dorian: I'm not being ironic... Gary Barlow.
Raucous laughter from all, DiS included
Dorian: He's a good songwriter, which I've only realised recently, and a bit of a tragic figure... I like that. Next!
More laughter, then silence.
Kate: Jeremy Clarkson?
All: No!
Kate: Ellen McArthur. She's my hero: 24 years old and she sailed around the world. Then she comes back, goes on Top Gear and beats everyone else on 'Stars In Their Cars.' I saw it, it was amazing. She's totally my hero.
A phone beeps.
Screech: I'm going to say Rhys from (tonight's support band) Good Shoes. He's just texted me asking what time they're on stage. And he looks like a monk!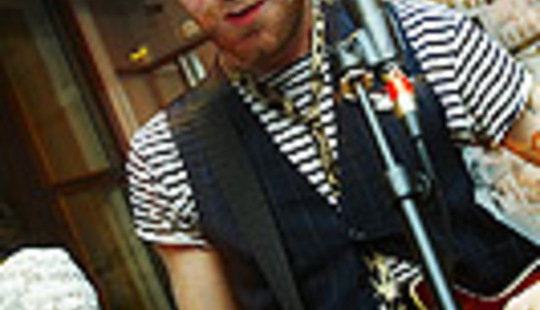 The band consists of two couples (Dorian and Emma, Reenie and Screech). Did love come before music, or music before love?
Dorian: Me and Emma were together before the band, we've been together for three years, but they're the classic love story. I formed the band to meet other people!
Kate: But we're all friends. It isn't weird at all. I live with Dorian.
Emma: And I live in Leeds.
So Dorian, you formed the band to meet other people, you're now living with Kate and your girlfriend lives in another city...
Yet more laughter.
Kate: We're just good friends, honestly!
Dorian: We've all lived together at some point...
Emma: No we haven't. I've never lived with you!
Before DiS has the chance to probe further into the Blondes' sleeping arrangements, we're forced to wind things up. The quintet have a single to launch, and need to get changed. When they arrive onstage two hours later, they look good but the venue's sound is awful. Much to Kate's bemusement, there are no monitors and Screech's drum-kit seems to fall to pieces. It matters not, because their star quality shines through regardless. With a heady mixture of film noir inspired escapist pop songs and a stage presence that oozes effortless cool, they're another Sheffield success story waiting to happen.
Photos courtesy of Gary Wolstenholme