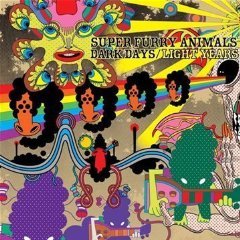 ---
---
Staff Reviews

What sets this album apart though is its sustained attempt at departure, the feeling that the reigns have been removed for the duration. 'Grazy Naked Girls' is a zeppellin-echoing freak-out; 'Moped Eyes', a funky reminder of what made peple so attracted to Gruff Rhyss' recent Neon Neon sideline; and 'Inaugral Trams' with it's germanic, Nick McCarthy-spoken monologue, is a mechanically efficient worker bee, ticking throughout its duration.»
---
---
---
---
Buy now from:

/Rock-Pop/British / European

SUPER FURRY ANIMALS
dark days / light years
Release Date: Pre-Release
returning to the kraut / psych / rock vibes of their early years, this album is a glorious technicolour journey into the mind of super furry animals, jam packed into 59 minutes of acidic pop genius. this is the super furries' ninth studio album, but it has more spark and invention than most teen bands manage on their debuts. 'dark days / light years' is their finest collection since 2003's 'phantom power', a purple patch perhaps inspired by the band members' dalliances in various solo projects: neon neon, candylion, the peth and acid casuals. at their best, they find the interface between exotic, arcane sounds and rich tunes; 'crazy naked girls' is a perfect nexus of melody and odd falsetto funk. the band find joy in repetition - as ever - in psych-rocker 'prijk'. elsewhere, nick mccarthy from franz ferdinand raps in german over 'inaugural trams', which has the buoyancy of a twisted kids' tv theme. and, to further recommend it, there's a track called 'the very best of neil diamond'.